» What to visit?
MARRUECOS

Morocco is a country of legend, close to us and old in the history. It is a place of changing colours which streets are full of life at night. It is a land full of mysticism and seems to move on a flying carpet in some places between myths and reality. It is located on the occidental point of North Africa, it borders the Algerian and Mauritania frontier and is at only 14Km of Spain, thanks to ...

EL GRAN SUR

Ouarzazate is the great door opening to the Great South where men know the science of water since the mist of time, where nature converts itself in a spectacle, where the palm grove and the dunes are succeeding where the architecture of the Kasbahs reinforce the necessity of stand up to the invaders...

MARRAKECH

Sumptuous, capricious and sensual, controlled by the majestic Atlas Mountains, the so called « the Pearl of the South » cannot fail to be impressive to the visitors and the first impression that it offers us is true to the various literary descriptions, so is it a passionate description or a deja vu? In all cases, it is simply unforgettable.

RABAT

Sensed and quiet, pleasant and cosmopolitan, criss-crossed by larges flourished avenues, all in Rabat seems refine and even more organised than in the other cities. A rich historic past and an exceptional climate tend to make it ideal for its rank of politic and administrative capital of the kingdom.

MEKNES

It is the city by Excellency of the sovereign Moulay Ismaël, who was good as well as a tyrant. It looks proud by its majestic buildings and homely by its streets and small markets. It is a really captivating city and for those who can feel its rich historic past it could really surprise you.
Morocco a la carte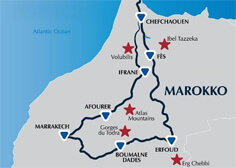 The Best of Morocco offers the possibility of CREATE YOUR OWN PATH . Tell us in the fields shown below, what type of route you want to do and we will contact you to offer it.