» Art and Culture
Moroccan Art and Culture offer the richness and splendour for the joy of its visitor. There are diverse ways of expressing Moroccan Art: these are done through carpets, clothing, jewellery, ceramic, leather, sculpture, tattoos, paintings, and even calligraphy. We also celebrate a festival of Art which takes place once a year to expose the talent of its inhabitants.

Traditional Craft Industry
The Moroccan craft industry is an Art which transmit itself from generation to generation and passed on from father to son. This is done with such a care that the result is always exceptional. They are overall dedicated to the pottery, the fabric of carpets, embroidery, basketry, the work of the leather and the jewellery businesses. You will discover without any doubt the best exhibitions of pottery in towns such as Fez or Safi. Fez is the pioneer where work is mainly through the use of the blue ceramic whereas Safi is the natural heiress of Fez even if the ceramic work is mainly composed of natural colours such as blue, brown or yellow.

However in those cities such as Azemmour, Marrakech, Meknes, Rabat and Taroudant you are able to witness exhibitions of people who work the silt and the varnishing or the recovering of enamel. It is also certain that each region produces one type of ceramic realises two main productions; those that are only for decoration and those for a useful utilisation such as conserving the aliment. They are usually recovered by geometric figures or symbols.

In the world of the carpet weaving, it is necessary to notice the differences. Firstly, we need to know where the carpet is going to be placed. Then it influences the size of the composition of the product defined by the weft and its knots. The carpets made in the villages and those made in the cities are quite diverse in their design. Those most famous are in Rabat which possess certain oriental influences.
There are several names of Berber carpets or villages, that have characteristics in their geometry and designs tend to be simpler but have an importance in their range of colours. Between those categories, you will discover that those of the Medium Atlas are those with a coloured bottom representing the town of Meknes or the white bottoms and dark figures of Taza, and those of the High Atlas represent a fine composition, those from Marrakech are usually the most creative and those of East country have blue tones and dark green as the darkest colours.

In the North of Morocco; cities like Azemmour, Fez, Meknes, Rabat, Sale, Tetuan and Jouaen, develop embroidery in their own technique and with the influences that derive from products that share the richness of the design its colours.

The town of Fez specialises its embroidery in silk on linen and on cotton. The skilful labourers use threads in gold and veil of satin. Meknes is famous for its embroidery in light colours, while Rabat plays on design from the Andalusia heritage. The town of sale is emphasized on shapes and designs and Azemmour by its broded colours that are used as carpets or decoration for curtains.

The basketry was conceived in Morocco to respond to people's needs. In its making, we use materials such as small palms grove, rush and bamboo to create garden accessories, lamps, hats and other objects.

The leather products in Morocco are very renowned and in great demand by the tourists. The work of this material is largely developed in the course of time, so it's easy to find accessories such as beautiful cushions, bags, suitcases, belts, and coats. Before, they only made saddles, book spines or 'babbouche' oriental slippers.

The jewellery is mainly made from gold, however silver and precious stones are also part of this ancient work. A tribe that once settled in the towns of Essaouira, Fez, Marrakech, Meknes, Rabat, Sale and Tangier were that which sparked off this ancient work.

The Berber rural jewellery is only worked with silver. At Ouarzazate, Tazenajit and Talouin, you are able to locate beautiful examples made by this certain tribe. They usually set prices depending on the weight of that particular article, not giving importance to the quality nor the esthetical fragment of that product. Their knives possess round fragments which give it a distinctive quality that is surely most admirable.

Other habits
In morocco, haggling is usually very frequent and common. Most Moroccans have a lot of experience in this area of negotiation of prices. In general, the people are very warm and welcoming and usually are accustomed to inviting people over to eat even if they don't know them. Like the Japanese and other Oriental countries or cultures, the Moroccans usually tend to leave their shoes outside their houses.

Most Moroccans usually eat with their hands. They typically use the right hand because the left one is seen as in correct. In holy places such as Mosques in Morocco, only allow adepts of the Muslim religion to get in these sacred places.

However tourists have options to visit the ruins of the mosques that are no longer in use. In taking pictures of local people, we advise that you should ask their permission, because it could be seen as offensive in particularly rural areas.

However it is allowed to take pictures of people whom you are developing good relationships with. In general, men are seen to freely circulate in the streets whereas women are in their homes. This means that is it not common to see women in bars or restaurants.
Morocco a la carte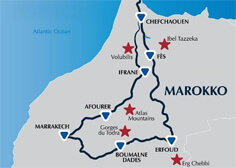 The Best of Morocco offers the possibility of CREATE YOUR OWN PATH . Tell us in the fields shown below, what type of route you want to do and we will contact you to offer it.